Most users use the social photography network to upload stories, view the publications of their favorite friends and artists, and little else. But the truth is that Instagram hosts some curiosities that those most interested in the app can take advantage of for their digital incursions. And since there are a few, at least those we know, we have decided to collect them all in the same entry.
So, we hope you become a crack of Instagram being able to get all the juice that is undoubtedly the social network of the moment.
Curiosities of Instagram that not everyone knows
1- Discover how long you have uploaded your last story WITHOUT entering it
When we open a story, at the top they tell us how long this content has been uploaded. But what if you don't want to fall into the "trap" and know that fact without having to go into the story?
The solution goes through login in Instagram.com through your computer's browser, where the hours that the user updated their story will appear next to the profile picture.
2 – Upload photos directly from your computer and without downloading third-party programs
The ones we use Instagram from PC, we are few, we have seen the light thanks to a small bug? of the official app of Instagram for Windows.
And is that installing it, running it and By right clicking on the program icon in the taskbar, it gives us the opportunity to upload a photo or video that we have stored in the equipment. Super useful when you edit an image or video on the PC, since you avoid having to send it to your mobile and from there to Instagram.
You can see how to do it in more detail in this link.
3 – Upload stories directly from your computer
In the same way as in the previous step, thanks to the official app of Instagram for Windows we can upload content to our story directly from the computer.
Now, we anticipate that the editor of the stories is limited and works rather regularly. Of course, to upload a mere photo or clip, comply. Another thing is that you want to add stickers, doodles and so on.
You also have a larger tutorial. here.
4 – See if any user has changed their name in Instagram ever
Maybe not so much your friends, but it is not strange that celebrities have changed @username sometime. If you can curiosity, you can check going to the profile of the person, touching the icon of the 3 points and entering «Information of this account».
Keep in mind that some profiles do not show the "Information about this account" option, it is generally only available in people or companies with many followers.
If you want to know more, we leave you this link.
5 – What do you know Instagram of you? (Or what do you think you know)
At this point nobody doubts that social networks collect information about our activity to draw up a malicious plan that will be revealed against us in the future with which to carry out the advertising (and to a lesser extent, the publications) that is shown in the app .
In this case, Instagram collect a series of terms that you associate with your activity in the social network. You can check going to Settings, Security, Access data, Ads (See all). And the results are sometimes strange. Compare them with your friends, you'll see.
If you do not clarify, you have a tutorial in this link.
6 – Add descriptive text for people with vision problems
The accessibility of smartphones It offers unique possibilities for people with disabilities to have a fluid experience. In this case, Instagram it allows you Enter a description in your photos that the virtual assistant of the user with vision problems reads aloud, so that you can get an idea of ​​what is in the publication.
To add this text, just publish a photo, touch the 3 points, touch on «Edit» and then on «Edit alternative text».
We leave you the procedure step by step here.
7 – Stop your vice to Instagram with its own timer
A while ago Instagram introduced a sort of "reviewer" in the app where you can see how much time you spend daily in the app. If you think it's too much, you can self sabotage yourself and set a limit per day; if you exceed it, you will not be able to enter until the next day.
You only have to Open the menu (in your profile, 3-line icon) and Touchez on «Your activity». You have more details about this option in this article.
8 – Make a collage directly in Instagram Stories, without going through other apps
Typically: you want to share more than one photo but all in the same post. You probably go to an app that makes you a collage, but what if you can save this step?
Why Instagram it allows you «Paste» images from your gallery directly into the story editor. You just have to open a photo in your story, and when you're in the editor, go to your gallery and click on "copy" a photo. When returning to Instagram a window will appear indicating that if you want to paste the photo you just copied.
You have it much better explained in this tutorial.
9 – Write rainbow color text in the stories of Instagram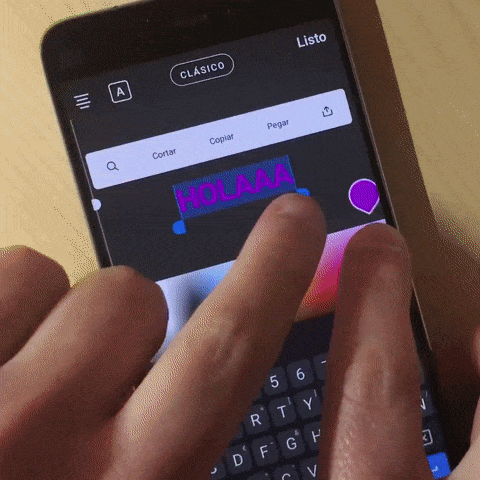 This is perhaps a little better known, but it is still a curiosity of Instagram very striking. Officially, the social network does not have the color "rainbow" but we can create it manually.
In the text editor of the stories, select all the text, press and hold one of the colors (to open the advanced color picker) and at the same time slide both the color gradient and the text selection.
In case the above GIF is not good enough summary, you have it expanded in this tutorial.
10 – Turn an iPhone Live Photo into a Boomerang
On iPhone you can shoot photos that house a small video extract if we keep it pressed. They are called Live Photo and in addition to creating a very cool effect, we can reuse them in the stories of Instagram to make Boomerangs.
If you never remember to do Boomerangs, this can be a good solution to have as many as you want. Basically you have to load the photo into the stories and when you're in the editor, press and hold it. It will become a Boomerang.
More information and images of the process in here.
11 – Download the stories of others at full resolution, without screenshots
The screenshots are shabby, this is so. All the elements of the interface are seen and they are also limited to the resolution of your screen and not to the original of the photograph (although in this case it doesn't matter much since Instagram compress as if there was no tomorrow).
To download stories, and even publications from Instagram better go to the web StoriesIG that offers them to you at the maximum resolution available. Without downloading apps, without logging in and without a trace. Of course, it only works with stories and posts from public accounts.
More info about the web in our article.
12 – How to hide a photo of your profile in which you are tagged but without tagging yourself
If you go to your profile and enter the «Tagged» tab, all the photos in which you have been tagged will appear; And this can be seen by all your followers.
So, if you have been tagged in a photo and you do not want it to appear on your profile but it gives you cut delete your tag, you can hide it by tapping on the tag and deactivate the «Show on my profile» handle. With this, you will already be a network ninja.
If you want to see it illustrated step by step, we leave you with this tutorial.
Extra: The preview of large-scale stories
Maybe you have ever seen it scrolling in the application feed. We talk about those windows that appear between publication and publication where we are shown the content of the stories of the people we follow; a kind of preview for which we do not pay the price of going out in the list of people who have agreed to see the content.
It should be noted that here we will only see the oldest storie that the user has available yet.
Then, this box appears somewhat randomly, but generally does when we don't have any stories hung; on many occasions when we have been going for more than 24 hours without uploading anything.
We talk about this phenomenon in its corresponding article.
---
What do you think about these curiosities of Instagram? Do you know any more that should be in this article? You can leave your comments below.