Did you know that the wind speed of Typhoon Irma, which dominates the Florida coast and must therefore evacuate millions of people, reaches 300 km / hour?
Such gusts of force practically leave no opportunities for inhabited construction. Not surprisingly, many people have begun to take an interest in wind charts and track the movements of hurricanes. Therefore, we present the best Android application to check the current wind speed:
Windy.com
This is the site adored by tens of thousands of users worldwide, and its Android mobile app is one of the most popular and valued. The application Windy.com Provide the latest data on various climate indicators:
Wind strength and direction (wind map)
Temperature map
Rain in the form of rain and snow
Atmospheric pressure
Wave strength and direction.
Windy.com Weather Map
You can configure the unit to display pressure, temperature, etc. You can also enable / disable the display of the required parameters: temperature, wind, waves, rain, etc.
The advantage of this project is visibility of the data presented.
On the Earth map, the wind direction, speed and force are shown with the help of animation. Because all the data is displayed in real time, you can see what is happening in certain regions of the planet.
At the bottom of the window, there is a timeline with date and day. By clicking on any date, you will receive a weather forecast for the day. Clicking the play button (white triangle) will start an animation of climate change every hour, where you will see, for example, how the wind will change tomorrow, the day after tomorrow and for the following days.
There is no doubt that Windy gave you A great interactive opportunity to see how the weather depends on the wind.. No graphs or charts needed – you can see everything online, in real time!
In addition to everything described above, Windy.com has a number of other features that will be useful to someone. For example, showing the current situation at the airport, showing suitable places for hang gliding or riding on the map, showing online cameras, etc.
Using the latest online data allows Windy to not only build the most accurate wind map in the world, but also to make reliable weather forecasts.
Downloads: 139 900+
Customer Rating:
(4.7 / / 5)
You may also like: 19 The best weather app for Android
Windfinder
Windfinder It will give users the ability to fully monitor weather conditions around the world. In addition to the primary nature of weather forecasts, Windfinder owners also have the privilege of verifying the current wind speed and direction.
This program is famous for its rich features. Application management is very easy. With the help of the navigation mode, it is possible to find any point in the world, scale the country or city you want, and then find detailed data on weather forecasts and other weather conditions.
Sensitive sensor control is performed in the most competent, easy and convenient way to make navigating the world map.
Advantages of Windfinder
A nice implementation of an external design.
Various weather stations
A good set of additional settings
Clear control
With the help of Windfinder, the user can find all the necessary synoptic forecasts.
The app's resources contain all the countries in the world and can display weather forecast and analytical graphs of wind, waves, tides, rain and other required meteorological information.
Downloads: 21 500+
Customer Rating:
(4.5 / / 5)
Windy.app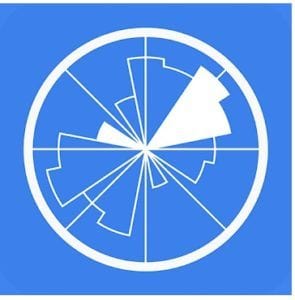 Windy is an easy-to-use app for wind dependent people that provides clear and accurate weather and wind forecasts for every part of the world.
The possibilities are:
Accurate weekly, daily and hourly weather forecasts.
Nearby weather, in selected locations and around the world
Weather widget for your smartphone's home screen
Wind forecasts for each part of the world for the next 10 days.
Weather Statistics (File) – View data on wind, temperature (day and night), and atmospheric pressure. The weather file will help you choose the most suitable month for your trip to the chosen location
Interactive wind map in HD: weather radar to navigate, navigate and kite
Detailed weather forecasts: wind speed and direction, wind gusts, precipitation, turbidity, temperature, waves, tides, atmospheric pressure, sunrise time, sunset time, etc.
More than 30,000 locations in the database are ordered by popularity
Make points + favorite points = stay on top of the weather at your favorite location
Offline mode to view predictions without internet access
Local chat for communication with other users.
Perfect for: Surfing, Kitesurfing and Windsurfing, Cruising and maritime navigation, Fishing, Parachute, Paraplane, Bicycle, Golf, Winter sports.
Application:
Made by kiter for people who depend on the wind!
Beautiful and comfortable interface!
Geo-chat sports
Set up personal notifications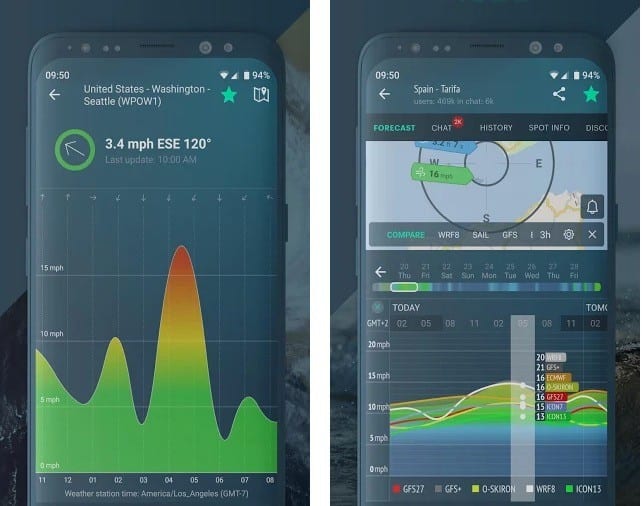 Downloads: 54 200+
Customer Rating:
(4.5 / / 5)
Wind map
Wind Map is an amazing app that displays real time wind and temperature animations for the entire planet. This will give you real wind and temperature information where you touch your finger.
The main features of the Wind Map application:
Information on typhoons, cyclones and live cyclones
3D Earth Map of Wind Land
Wind and storm predictions
Get detailed information on wind speed and temperature.
Animated satellite image
See past and future predictions
Get a warning
Save location on map for quick returns
Become a wind master with this suction cup app!
Download: 6 500+
Customer Rating:
(4.6 / / 5)
Radar storm
Radar storm The app for Android devices is a powerful weather forecast tool! High-precision interactive full-screen maps of past and next eight-hour forecasts, innovative lightning tracking, and real-time alerts give you a clear view of the weather in your area. Current weather or day or time based forecast data is always available on your Android device.
The possibility:
Radar: exact weather forecast.
Global radar with data for the near future: estimates of innovative animations for six hours on land and water.
Storm Track – Detailed analysis of data for the next storm, including arrival times, storm strength, storm components (eg, wind, hail, storms or tornadoes), speed and direction of the storm. storm, rain intensity, storm tracking devices and much more.
Tropical Storms and Storms: Historical Roads and Wind Speed ​​Predictions, Strength Data.
Thunderstorms: Show thunderstorms within 100 miles.
Customizable data layers: earthquakes, weather warnings, storm reports for your area, temperature and rain layers, and more.
Storm Reports in Your Area – Provide local weather forecasts and weather warnings anywhere in the world and in the United States, including Miami, Orlando, Chicago, Minneapolis, and St. Louis
Downloads: 139,700+
Customer Rating:
(4.0 / / 5)
NOAA Weather Alerts and Weather Alerts
NOAA Weather Alerts and Warnings is a useful and easy to use program with weather radars and warnings. You'll also get real-time animated maps!
This is a sophisticated but easy to use application that will provide detailed reports on the possibility of rain, wind, temperature, atmospheric pressure, etc.
Check the 7 or 10 day forecast anywhere, prepare a custom report style and choose the information you want: humidity, rain, sunrise and sunset.
Easily change cities, be warned about rain, storms and hurricanes, select a background map, add widgets to the screen to see updated information.
This application allows you to set multiple individual locations. This can be a place to live and work. This program covers the USA. USA, Japan and Europe.
Downloads: 302 900+
Customer Rating:
(4.2 / / 5)
You may also like: 26 free clock widget apps for Android
Wind alert
Wind alert is one of the most reliable weather sources for Android. You'll get all the weather information with real-time wind reports.
Reports are reported on the wind conditions of more than 50,000 stations worldwide. Here, you can create your own favorites list for quick access to your incoming weather station.
These include the radar / precipitation map, satellite / cloud map, forecast map, and nautical charts.
Download: 2,000+
Customer Rating:
(3.8 / / 5)