All Mac users always tend to look for something new in each software, and generally anything they use. In 2015 Eltima launched the perfect alternative for Mac Finder Commander one It had amazing features that made tasks easy for all users. It was a dual pane file manager that could handle multiple tasks at once and can also be used as an FTP client when required.
To take things to a higher level, the company decided to release an updated version for this File Manager, the Commander One 2.0. It's here to bring you a whole new interface and cool new features. The previous version has been a great success and the user loves it in every way. But if we are getting new updates and features, who wouldn't want to try it out. So we have the updated version in our hands and here is our review.
If you're not familiar with Commander One's file manager, we recommend reading our detailed Commander One 1.0 review.
What is Commander One? 2.0?
Commander One 2.0 is a dual pane file manager with more stability and advanced features, something you'll never find in your basic Mac Finder. This is brilliant software that has been created to make work faster and smoother on your Mac operating system.
It has been integrated with lots of connections and supports Backblaze, Box, Dropbox, FTP, One Drive, Google Drive on your list.
Commander One is here to increase your productivity and improve the way you've been using Mac all this time. The dual pane window makes multitasking easy along with an unlimited number of tabs you can open in it. The best part of this is that you can easily copy, paste and edit files in a much easier way.
How to install Commander One 2.0 on your Mac
Commander One 2.0 is very easy to install on your macOS device when you follow a few simple steps. Here are the Steps to download and install Commander One 2.0 on your MacBook:
Step 1: Download Commander One 2.0
Visit Commander One's official product page for Eltima software.
Scroll down and click "to download"
Save the commander.dmg file to your desktop.

Step 2: Install and run Commander One 2.0
Double click commander.dmg file downloaded before to begin the installation process.
From the new window that appears on your screen, drag and drop the Commander one to Applications binder.
You can open Commander One 2.0 at any time from the Launchpad.
What's new in Commander One? 2.0?
You may be very curious to know what is so special about Commander One 2.0 that you cannot find in the previous version. Without further ado, let's see what's new in the latest version.
1. Support for Backblaze and Box
New updated version of Commander One file manager is now supported Backblaze.com Y Box.com Connection directly through the downloaded application on your Mac. You will not need to open your browser or any other separate window to access your files from different cloud stores.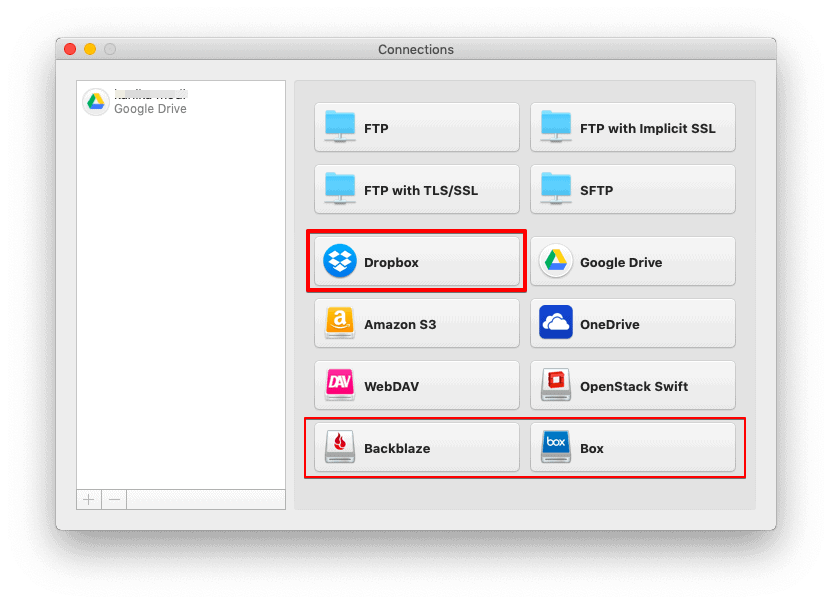 Just click on the "Connections" icon in the upper right corner and a new window will appear with all the connection that has been added to the list along with the existing one. Here you can add a new connection once and access files from the cloud via Commander One file manager.
2. Supports "Shared with me" on Google Drive
Commander One 2.0 now has the ability to help you work with "Shared with me" folder on Google Drive. You can simply connect your Google Drive account to the app and access all the files in your cloud from your Mac.
1. Click on the "Connections"In the upper right corner.
two. Select "Google Drive"And allow Commander One to access your unit.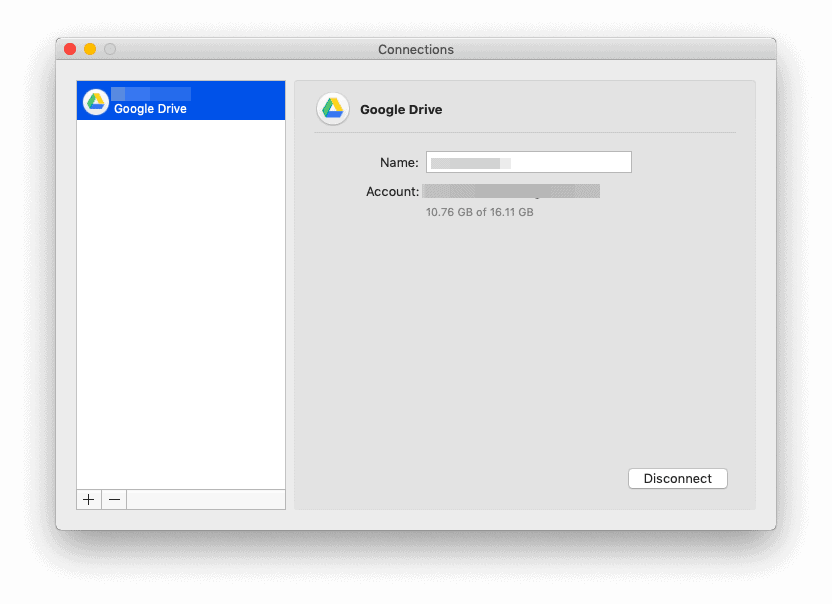 3. Select your profile from the list and you can access "Share with me" folder directly from the file manager.
3. New connection for Open Stack Swift
In the connection menu, we have the Open Stack Swift connection option below it. The new Commander One file manager now supports Keystone v1 and v2 authentication services.
These authentication services will provide common, token-based authorization. However, we have still had to wait for another update to use Swift Keystone version 3.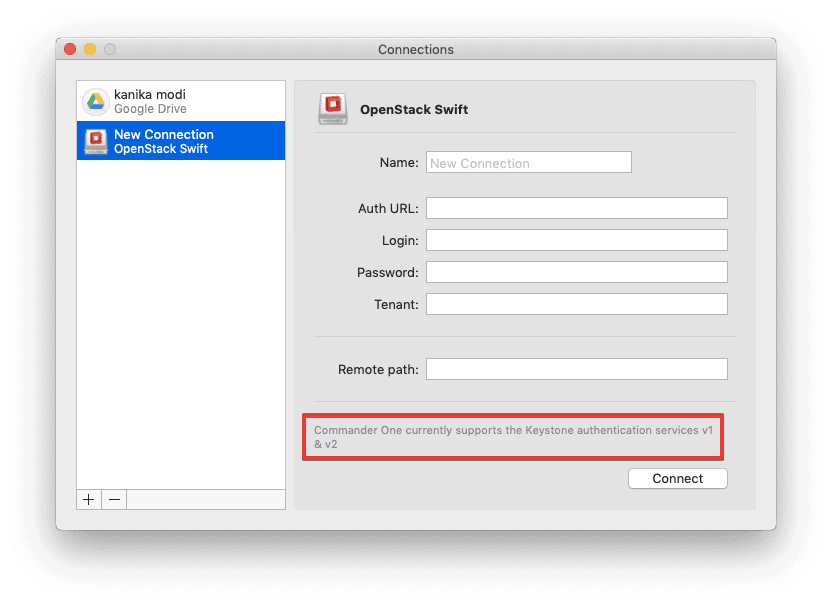 4. New addition to Amazon S3
Commander One now has the option to choose Server endpoint in the connection type in Amazon S3 Also now supports CN-North-1 Beijing, EU-North-1 Stockholm regions. These endpoints will provide a much more reliable and highly scalable connection to Amazon S3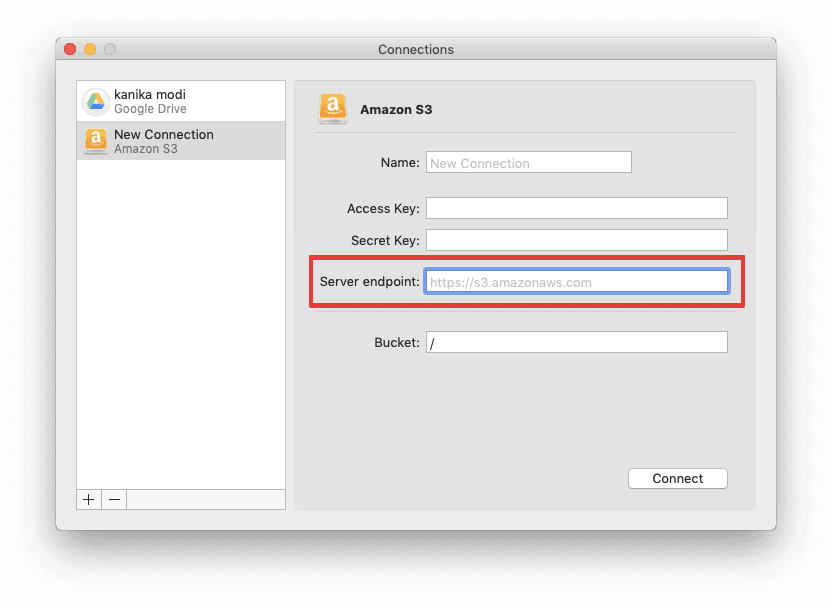 5. Supports MacOS 10.14 dark mode
To use dark mode in Commander One 2.0, you must enable dark mode on your macOS device. To do this, click on the Apple icon at the top left of the screen and choose System Preferences. Now click on the General tab and select Dark next option Appearance.
Other added features
You can now configure the appearance of integrated preview and terminals.
Supports the SSH keys for SFTP connections.
You can now open and edit cloud files, files, MTP and other iOS devices.
Supports Search engine extensions and search engine tags.
Change User interface language from the application Preferences.
What has been fixed in the new version?
The previous version of Commander One had faced certain problems with few functions as reported by users. Although not much to write down, but good enough to attract attention.
the AZERTY keyboard Now it is working fine.
Support of the Cyrillic characters for FTP connections.
The symbolic link icon.
In addition to these, there are certain features that have been improved in the new Commander One 2.0. We'll see.
The functionality of the built-in terminal An important improvement has been given to what we had seen in the previous version of the software. Better user interface and stability.
If you were concerned about the size of the icons, the company has improved it by changing the size of the icons every time you change the font size.
the WebDAV connection He's been given a great thought and now he works like a beast with better speed.
MTP devices have been working very well since the update.
UTF-8 FTP connections have been brought to further increase compatibility.
Finally, the operation queue functionality It has done better than what we had seen in the previous version.
conclusion
There are also other minor fixes that have generally had a big impact on Commander One. If you want to know more about the changelog, you can read the official blog post here.
The free version of Commander One will suffice for occasional users. But if you look for more, you can try the Commander One Pro Pack 2.0 which will cost $ 29.99 for a single system and for a team of 5 you can get it for $ 99.99 excluding GST. But I would recommend trying the free version and if the need persists, you can go for the pro version along with the "Lifetime Upgrade Guarantee" plugin that costs you an additional $ 50 for free lifetime upgrades.
If you are already a Commander One user without the plugin "lifetime upgrade guarantee" and want to upgrade to v2, you can get 50% coupon. You can contact Eltima support at (email protected) for additional information.
After this major update we can say this is one of the best file managers for macOS and it keeps improving things every time. We hope to see more updates and cloud connections in the next updates.