Oppo dazzled the world last year with its fast charging system SuperVOOC, which allowed charging terminals such as Find X or RX17 Pro in just over half an hour. The charger that accompanied them since its launch – in June and November 2018, respectively – and that was even taken to the car was soon forgotten in the renovations of the new terminals.
Both the mid-range and higher-end Oppo Reno – where the 10x Zoom Edition is located – went back to a more content and 20 and 30 W charger respectively, while the brand licensed its fast charging system to multiple manufacturers .
A somewhat difficult movement to understand that came accompanied, yes, of a somewhat smaller and more attractive price barrier in general. This movement was repeated again with the recent presentation of the Oppo Reno 2 in the mid-range, with a fast charging of 30 watts, although it does not seem to happen again in its high range.
SuperVOOC 2.0 receives an extra 15 W
Oppo has presented SuperVOOC 2.0, an improved charging system that once again compares with the latest of its fast-charging standards – not super -, VOOC 3.0. This new edition raise the bar to 65 W, which allows the terminal to be charged even before the more conventional, but also fast charging, reaches even 50% as can be seen in the video.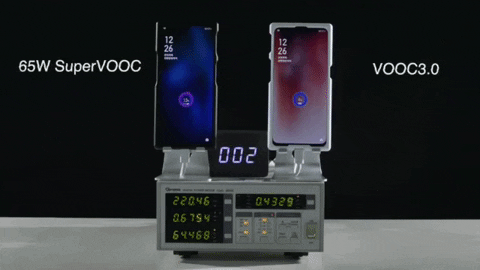 This charging system will arrive at Oppo Reno Ace, a smartphone still to present and on which Oppo claims that its battery will arrive in just 27 minutes from 1 to 100%. Five minutes, and promises up to 27% charge. Oppo achieves this thanks to the use of new compounds in chargers, such as gallium nitride (GaN) that allows smaller chargers than conventional ones.
We have already seen other demos, such as Xiaomi in which it charged the terminal in just 17 minutes thanks to its charger of no less than 100 W. difficulties of this type of systems There are two: to overcome with the added value generated by the extra cost they produce in the price of the terminal, and not to shorten the health of the batteries more than necessary.
VOOC 4.0 and wireless charging at 30 W
Oppo
In addition to SuperVOOC 2.0, Oppo has unveiled its own new generation of wireless charging, which promises up to 30 W of charging power without connecting the cable. This is higher than the standard of fast charging in these formats, which remains at 15 W in the recent Huawei P30 Pro and Galaxy Note 10+ However, it is Xiaomi again who disputes the flag here, because we already saw the wireless charger of the Mi 9, which reached up to 20 W. These were also recently extended to the 30 W that Oppo equals now, with its Mi Charge system Turbo.
Finally, Oppo also renews its most basic and 30 W fast charging system, in its version VOOC 4.0. With it, they promise to charge up to two-thirds of a now standard battery – but still generous – of 4,000 mAh in just 30 minutes. It does so by reducing the internal resistance of the battery pack completely, managing to reduce heat generation, which is ultimately one of the factors that most damages the batteries in the terminals.